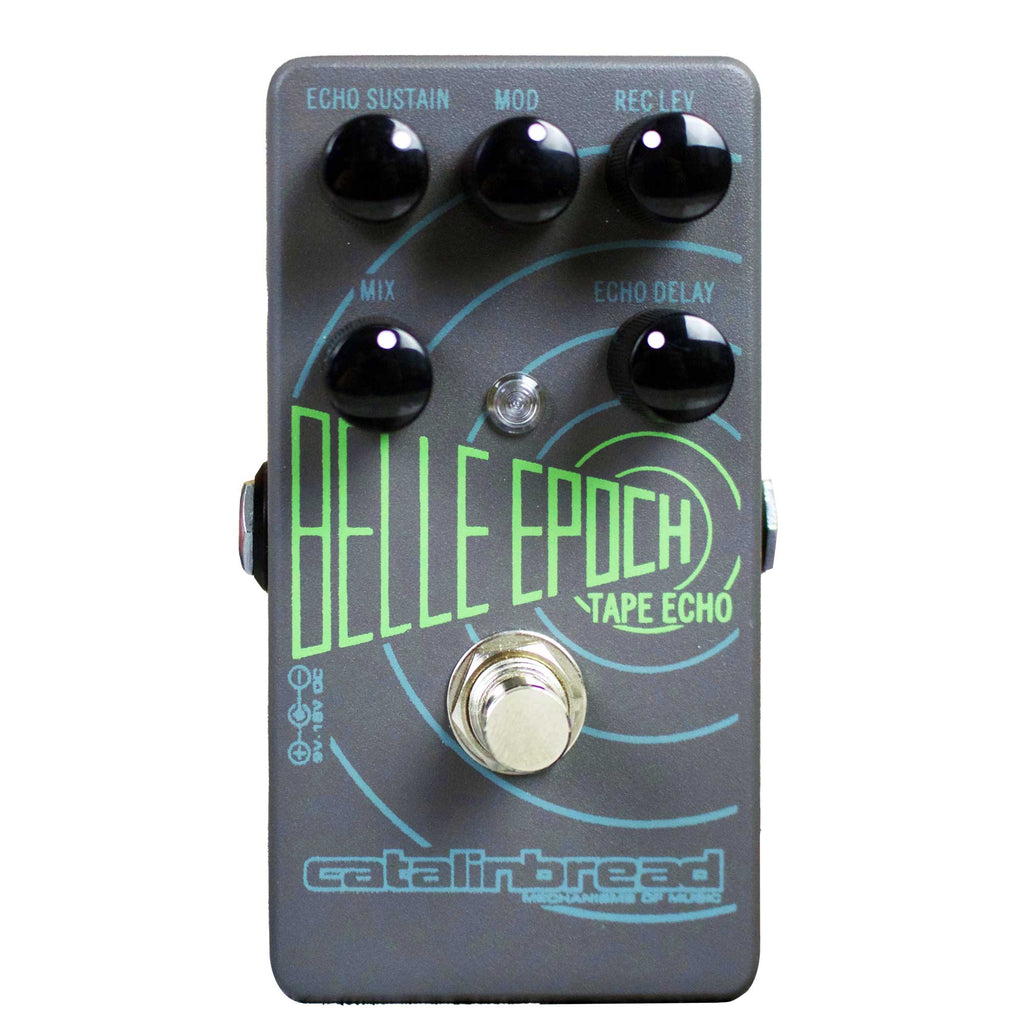 Catalinbread
Catalinbread Belle Epoch Tape Echo
---
Inspired by the Maestro Echoplex EP-3, perhaps the most famous tape delay ever, the Catalinbread Belle Epoch everything loved about the EP-3 in a small, maintenance free pedal format.
The Catalinbread "tape echo" is more than a standard digital delay. There are numerous traits of the Echoplex faithfully reproduced in order to create that authentic Echoplex character. The preamp, self-oscillation character, the ability to control the "record level of the signal hitting the "tape", wow and flutter, the way the repeats decay, the way the circuit interfaces with the amp and other pedals... all were important to get right. 
The Catalinbread Belle Epoch Tape Echo, with tape echo sounds so authentic you'd swear there was tape inside the pedal!
External Controls:
Mix: This control replicates the functionality of the Echo Volume control on the EP-3 and uses the same basic passive mixer circuit.
Tone/Record Level: This control sets how hard the "tape" or delay line is hit.
Sway/Mod: This control sets the amount of random tape wow and utter eects in the echoes.
Echo Sustain: This controls how much delay signal is fed back to the delay line to get multiple repeats.
Echo Delay: This controls the delay time, from about 80ms all the way up to 800ms. It was designed to be manipulated in real-time, as you are playing, to get the same sounds as an EP-3. 
Internal Controls:
Gain-Trimmer: This sets the gain of the preamp. It is factory set just above unity gain. At maximum gain, you'll be treated with a gloriously huge fuzzy boost that sounds amazing into a cranked amp or foundation overdrive. You'll still be able to clean up from your guitar's volume knob if you run it this way! Adjust with care. Trimpots very sensitive
Buffer/True-bypass Switch: From the factory we ship the Belle Epoch in true-bypass mode. You can use this switch to set it to "buffer" mode. (It's not really a buffer, it's a discrete preamp, but non-true bypass mode is commonly referred to as "buffered" mode.)
---
Share this Product