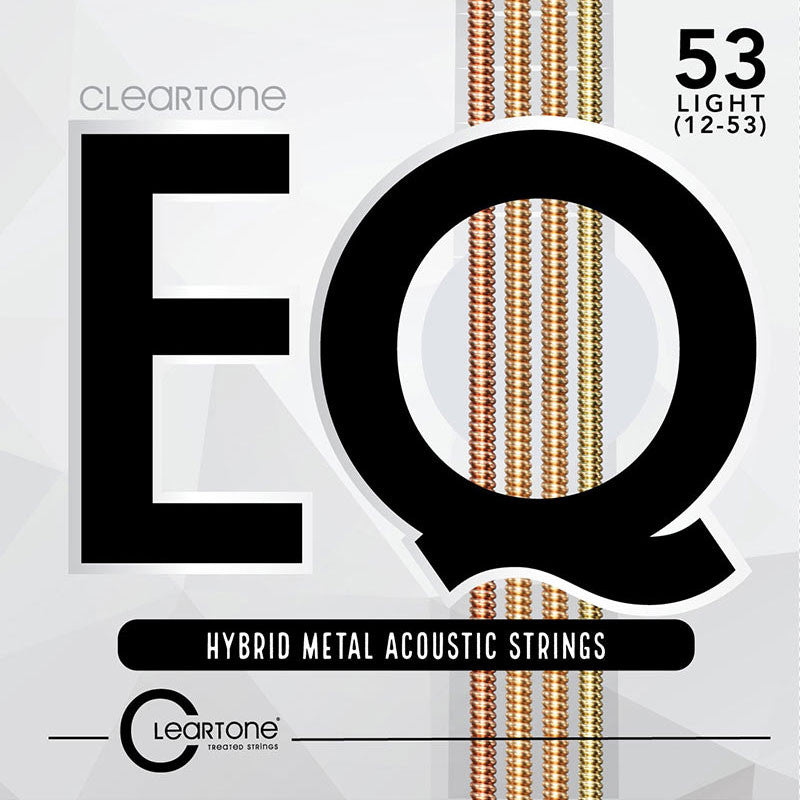 Cleartone
Cleartone 7812 EQ Acoustic Hybrid Metal Light (12-53) Guitar Strings
---
Cleartone EQ's are the first Acoustic Guitar Strings that blend a variety of metals into a single set to highlight your guitar's frequency response.
Designed to mimic a "perfect EQ setting", each wound string utilizes a different alloy to enhance that string's natural frequencies. EQ's begin with a 99% copper-bronze for the Low E to increase bass response.  Next, Phosphor Bronze is used on the A & D string to accentuate the mid range while maintaining a robust low and high end. For the G string, Cleartone selected 80/20 for its bright characteristics and ability to cut through the mix. As a set, Cleartone EQ's produce an exquisitely balanced tone that mimics a "perfect EQ setting" by combining all the best characteristics of Phosphor bronze, 80/20, and Copper-bronze into a single set. A world FIRST!
99% Copper-Bronze Low E for increased bass response
Phosphor Bronze A & D strings to accentuate the great mid-range
80/20 Bronze G string for clear brightness
Change Strings less often!
Not coated strings, Treated strings. No flaking!
Natural feel.
Made in the USA
Cleartone strings avoid the problems of other coated strings.  Cleartone Strings feature a patented and award winning treatment that is less than one micron thin yet withstands the hardest of strumming. That means none of the flakes, slippery feel or dead tone that coated strings are known for. In fact, the Cleartone Treatment actually increases volume over untreated strings while still giving you 3-5X the string life. This means that you will be changing strings less and playing a whole lot more. Let's face it, no one likes changing strings.
Give your guitar the treatment it deserves and make the switch to Cleartone Strings, the #1 leading brand in treated strings.
Pure Tone. No Compromises. USA made.
Gauges: 12 16 26 33 43 53
Manufacturer ID: 7812
MSRP $17.00
---
Share this Product
---
More from this collection