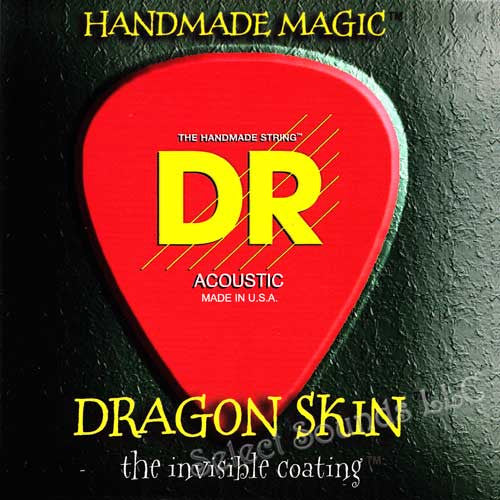 DR Strings
DR Strings DSA-11 Dragon Skin Medium Light 11-50 Acoustic Guitar Strings
---
DR Strings Dragon Skin Acoustic Guitar Strings feature phosphor bronze with clear K3 coating on each string for long-life. DR Strings are made in the USA.
DR Dragon Skin acoustic strings DR's K3 clear coating for long life. Using a unique coating technique, DR says these strings "sound as good or better than uncoated strings."
Player's are raving about Dragon Skin strings:
"Coated strings are not supposed to sound this good."
"I'm not complaining, I just don't understand how a coated string can sound better than my uncoated strings. Doesn't that violate some law of nature?"
"You managed to make the first coated strings that definitely do not sound muddy."
"They're loud!"
All six strings are coated for improved performance and corrosion resistance.
Neon Red K3 bright and long-lasting coating
Long Scale 37 3/4" string length
Hand wound in the USA
K3™ Coating Care
The K3™ coating from DR Strings is designed for use with standard picks and fingers. The K3™ coating can be damaged by scraping against metal. It is important that care be taken when stringing guitars and basses where the strings are passed through a metal block or bridge. Scraping can damage the coating.
Gauges: 11 15 22 30 40 50
---
Share this Product
---
More from this collection