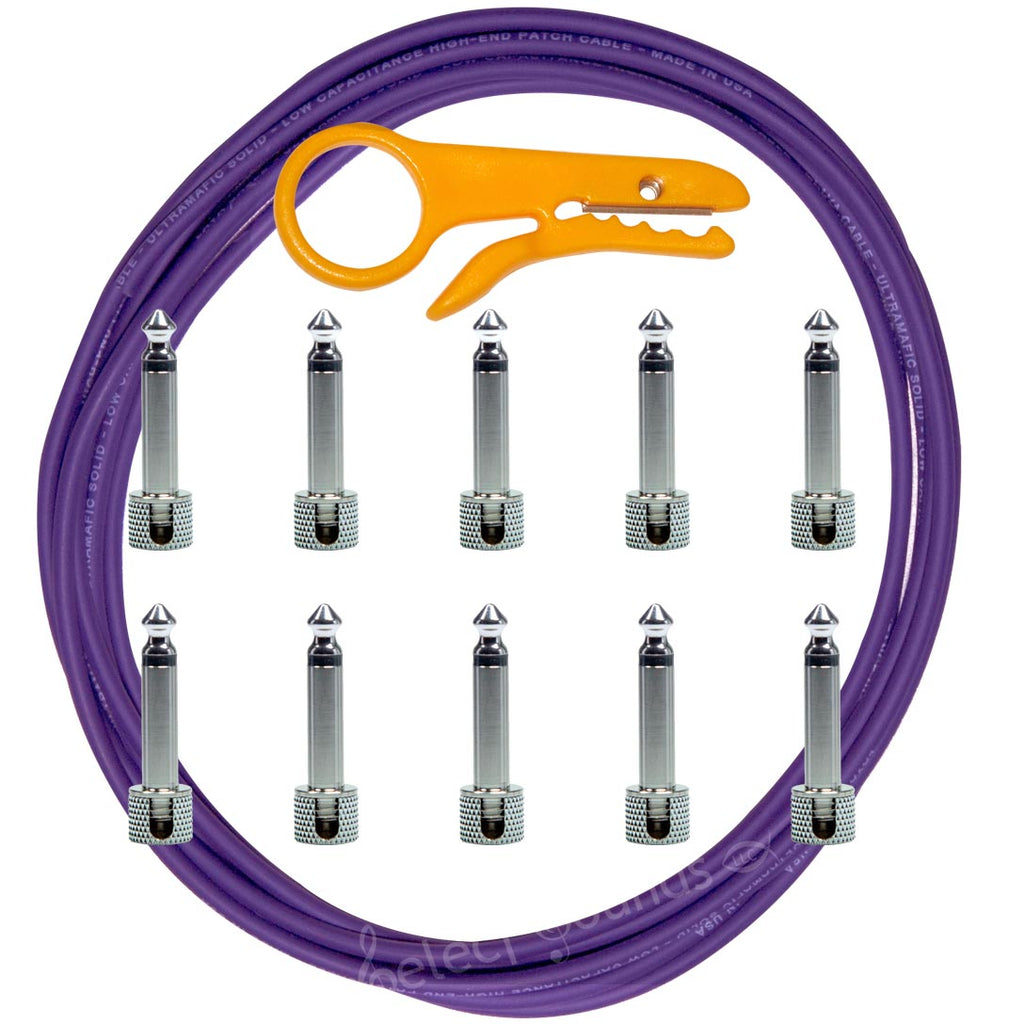 Lava Cable
Lava Solder Free 10+10 Tightrope Pedalboard Kit - 10' High End Cable, 10 RA V2 Nickel Plugs
---
Lava Cable's Tightrope Solder-Free Pedal Board Kit with High End Cable a great combination of affordability, reliability, and clear signal in a DIY solder-free pedal patch cable kit.
The V2 Lava plug features the closest profile of the current Lava family, specifically designed for the compact Tightrope solid core cable.  Tightrope solid core patch cable is an upgrade to Lava's current Mini Soar cable. The cable included with this kit is the High-End Ultramafic Solid silver-plated 20 gauge, 32 pF/ft capacitance patch cable. Outer diameter is 0.155"
The Tightrope V2 plug features a tunnel inside that threads the copper core of the cable with a simple twist and lock. This plug is even smaller in circumference than Lava's original Tightope plug making this the new winner for "smallest solder free plug" available from Lava Cable.
High-End Ultramafic cable, featuring a solid silver-plated 20 gauge core, providing 32 pF/ft capacitance combined with the Lava V2 plug make this kit the perfect choice for musicians who want the best of both worlds: low price and a superior product.
Tightrope cable is Made in the USA.  The plugs are made in Taiwan to Lava's specifications.
Superfast and easy to assemble patch cables are the hallmark of this DIY Kit.
This kit includes all you need to build up to 10 right-angle pedalboard patch cables for the ultimate in compact, high-quality cable connections.
In all, you get:
10-feet Lava Tightrope High End Cable
10 Right-Angle Lava V2 Tightrope Nickel Plug 1/4" Connectors.
1 Wire Stripper.
Lava Cable is covered by a Lifetime guarantee when purchased from an authorized Lava Cable Dealer.  Select Sounds is proud to be an authorized Lava Cable Dealer.
Lava Tightrope plugs and cable are easy to assemble in only a few steps. Simply follow the photo-instructions included in every package, or watch one of several YouTube videos.
Note: We may change the cable cutter from time to time.  The cable cutter you receive may look different from the one pictured.
---
Share this Product
---
More from this collection