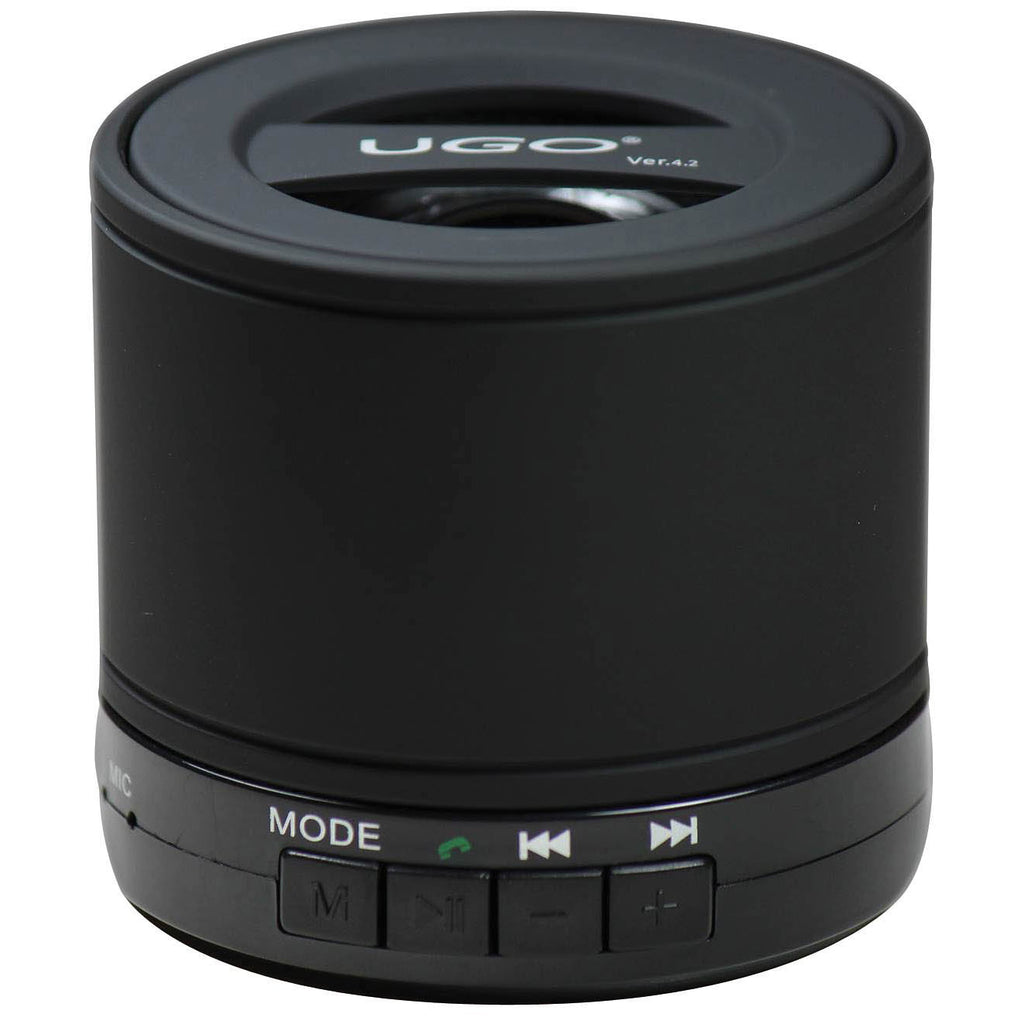 UGO
UGO Bluetooth Wireless Mini Speaker with Micro SD Card Slot, FM Radio
---
If you are serious about music, the UGO Bluetooth Wireless Mini Speaker is packed with features, making this your go-to mini speaker system.
The UGO Mini Speaker provides great flexibility. In addition to Bluetooth 4.0 connectivity, you can play music from the built-in Micro SD Card Slot, or listen to FM Radio broadcasts. When connected to your phone, use the built-in microphone to answer calls. Use the Auxiliary Out to connect additional speakers for bigger sound when needed.
UGO is all about sound and versatility. With four playback modes the UGO Bluetooth Mini Speaker has the ability to deliver deep bass tones, crystal clear midranges and sparkling tenor from any audio source. Connect via Bluetooth or direct plug-in.
The UGO uses Bluetooth 4.0 connectivity so you can stream your music wirelessly from up to 30 feet away, plus get the fastest, most reliable data transfer combined with the lowest energy loss for a portable sound machine that plays for hours on a single charge.
This UGO is also equipped with a built-in FM radio, built-in microphone, Auxiliary Out and Micro SD card slot, making the UGO the biggest bang for your buck for flexibility in portable bluetooth speakers.
The UGO Bluetooth Wireless Mini Speaker comes with an unconditional 12-month warranty against defects. This unit is finished in classic black.
Highlights:
Solid steel shell for deep bass and clear tones. No tinny tone.
Bluetooth 4.0 Connectivity.
Micro SD Card Player.
FM Radio.
AUX Output.
Non-skid base prevents scratching and slipping.
Rechargeable Lithium-ion battery provides hours of play.
Soft rubberized exterior.
12-month Manufacturer Guarantee.
USA Support Team.
Width: 2"
Height: 2"
---
Share this Product
---
More from this collection