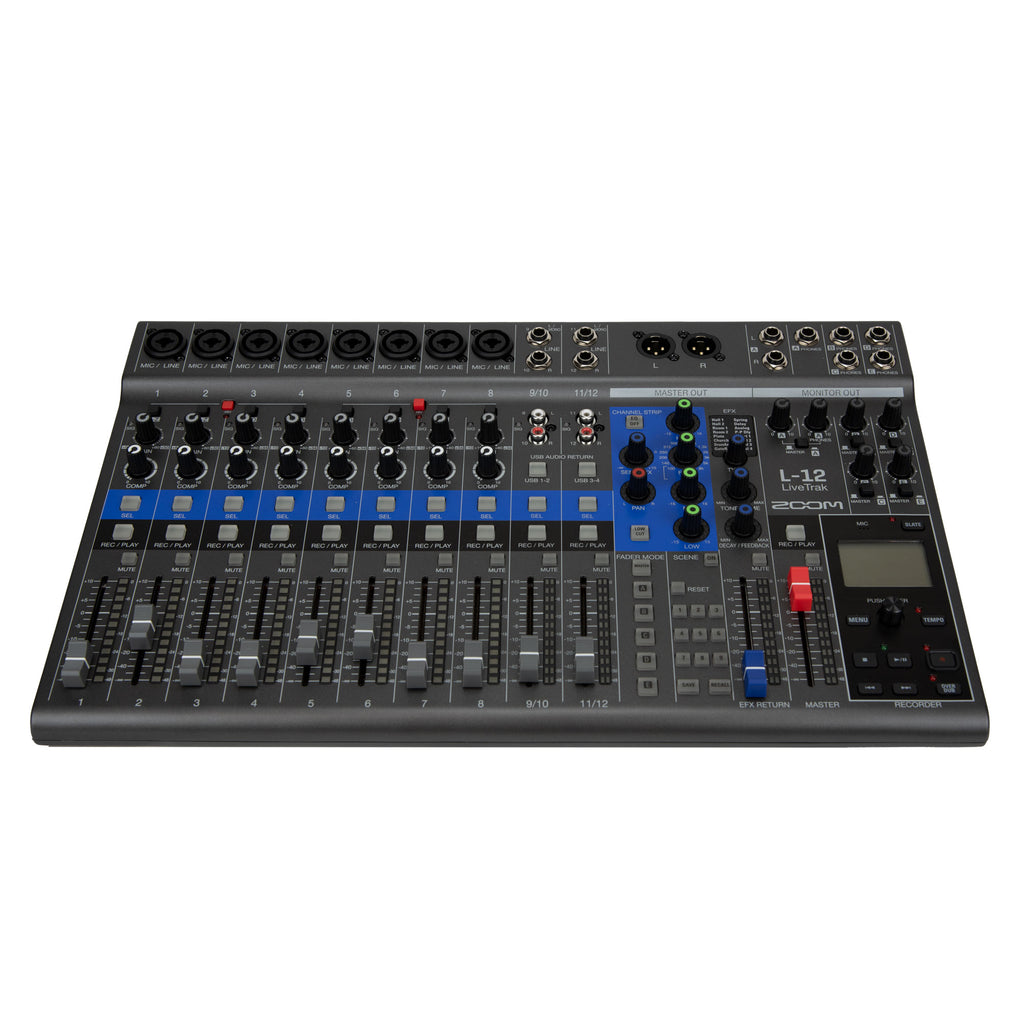 Select Sounds LLC
Zoom LiveTrak L-12 12-Channel Digital Mixer & Multitrack Recorder - Excellent Condition
---
This listing is for a Zoom Livetrak L-12 that was used about 4 times, always in a non-smoking environment and stored in the original packing sleeve and box.
You get the Zoom Livetrak L-12, the original power supply and cable, the original packing sleeve, and the original box.
With the LiveTrak L‑12, you can finally mix, record, and monitor with a single piece of gear. It's the only digital console that lets you mix your live performance and record up to 12 discrete channels – all while providing five individual custom headphone mixes.
LiveTrak's 12 discrete channels (eight mono plus two stereo) have a 3-band mid-parametric EQ and 16 built-in send effects. Its eight mono channels also have a dedicated compressor.
LiveTrak lets you record 12 discrete tracks up to 24-bit/96 kHz WAV audio to an SD cardwhile simultaneously mixing your live show. Tracks are recorded pre-EQ and effects, so they can be transferred to your favorite DAW
for further mixing and editing.

*Effects, EQ, overdub, audio interface, fader modes A-E, and channels 13-14 (stereo mix) are not available in 96 kHz.

Each of LiveTrak's five monitor outputs provides a unique mix, so every performer can create and save a mix that's tailored to their preferences. Its headphone amplifier delivers volume that stands up in any live environment without the need for a separate headphone monitoring setup.
LiveTrak is also a 14-in/4-out USB audio interface with flexible routing options, offering unlimited possibilities. Class compliant mode, which enables connection with iOS devices, is also supported (Apple Lightning to USB Camera Adapter required, not included.)
At -128 dBu EIN with +60 dB maximum input gain, LiveTrak is equipped with the quietest and most advanced preamps Zoom ever made. Just wait until you hear how incredible it sounds.

The L-12 supports sample rates up to 96 kHz when recording to an SD card, allowing you to record in high definition. In Audio Interface mode, the L-12 can record up to 48 kHz to a computer and an SD card simultaneously.

Record automatically by adjusting the L-12's customizable audio input commands. Set it to start when the master fader detects a certain dB level, or use a guitar chord or snare hit to start the track. You can capture data up to two seconds before recording starts, in case a performance begins ahead of time.

The L-12 is equipped with several operation modes. Audio Interface mode lets you route inputs and outputs to any DAW.

With USB Host mode, transfer projects and audio files to a connected USB flash drive. In Card Reader mode, the L-12 acts as an SD card reader, allowing you to transfer audio files to and from your computer.

If purchased new the Zoom Livetrak L-12 is $649.99. Get yours now at a GREAT price!

Highlights
Number of Buses: 12Suitable For: Home Recording, Stage/Live Sound, Recording & Live Sound, Studio/Recording, Front of House (FOH), Monitor
Number of Line Inputs: 4
Item Depth: 4 in
Number of Mic Inputs: 2
Number of Phono Inputs: 1
Input/Output Ports: Analog XLR Out, USB Interface, XLR Out, XLR In, Analog RCA/Coaxial In, Analog XLR In, TRS 6.35 mm (1/4") In, TRS 6.35 mm (1/4") Out
Form Factor: Console/Tabletop
Features: Powered, Built-in Effects, PC/Mac Compatible, Built-in Power Amplifier, Phantom Power, Fader-Type Control, 3-Band Equalizer
Type: Mixing Console
Model: Zoom LiveTrak L-12

Dimensions
Item Height: 2.8 in
Width: 17.5 in
Item Weight: 8 lbs
*** Depending on your destination we MAY choose to ship by EITHER US Postal Service Priority Mail OR UPS Ground.
---
Share this Product