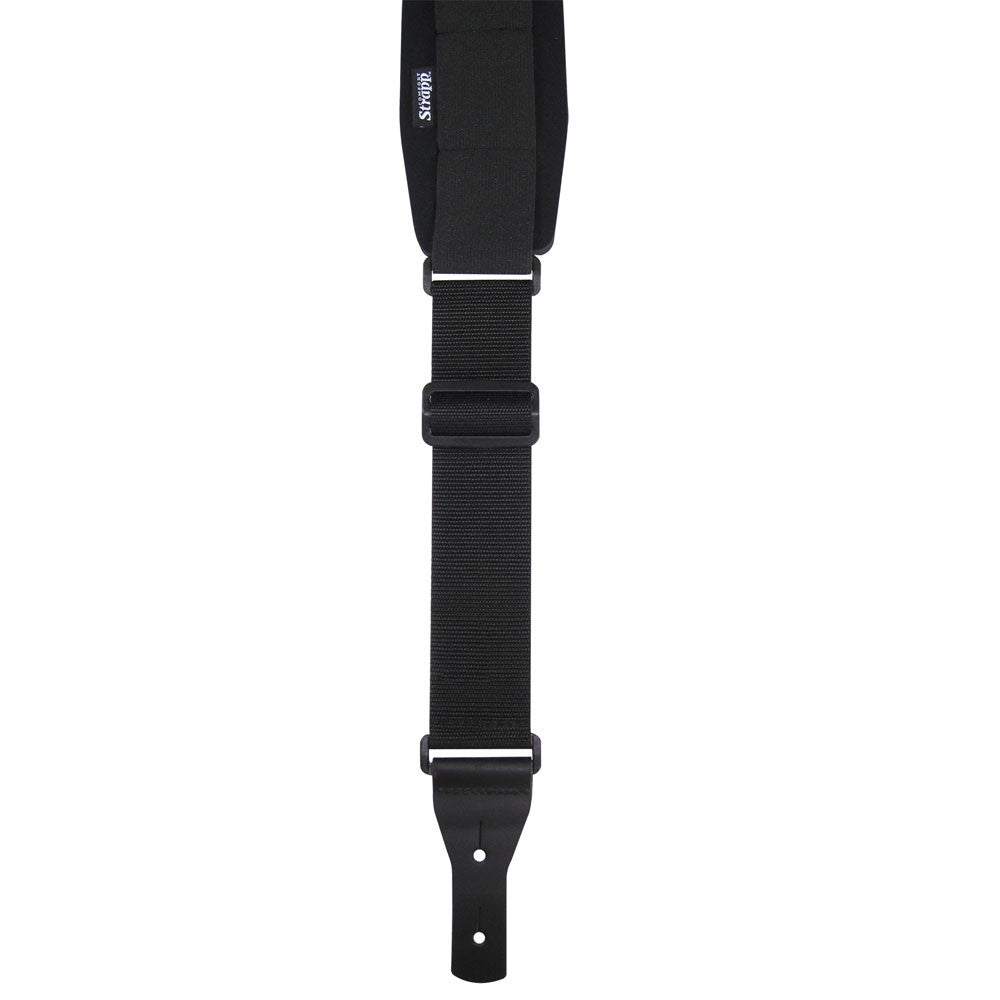 Comfort Strapp
Comfort Strapp Pro Bass Extra Long - The Ultimate Bass Guitar Strap (42 to 54")
---
This is the Pro Series Extra Long (42-54") bass guitar strap from Comfort Strapp.
The Comfort Strapp provides unmatched comfort and performance.  Comfort Strapp's composite design combines the soft cushion of neoprene with sewn webbing to eliminate any bungee effect.  The Comfort Strapp is the only patented neoprene strap offering limited stretch.
The Comfort Strapp Pro Bass uses an extra wide neoprene pad for long-life padded support to handle the extra weight of your bass guitar.  This comfortable neoprene pad tapers from a generous 3.5 inches at the shoulder to 3 inches at each end.
The Comfort Strapp is designed with a double-hole attachment at each end, called the Douglas Connector.  The inner hole connects to your strap button.  The outer hole loops back for a second, more secure attachment to your instrument.  These holes can also be used singly for a longer strap length (about 2" longer).
FAQ: How do I determine what size Comfort Strapp I need? Determine your Comfort Strapp size based on your preferred  guitar strap length. Here's how: Take a strap you currently use and measure it from strap-button hole to strap-button hole. Then compare that length with the Comfort Strapp lengths offered. If your preferred strap is 33 to 37" in length, then the Short is for you. Otherwise, consider the Long (38-45") or the Extra Long (42-54").

Comfort Strapp will outlast and outperform any other strap you've ever used, and will easily accommodate most strap-locks.
Try a Comfort Strapp today.  "It works while you play!"
Made in the USA.
Patented non-stretch soft neoprene material
Available in three lengths: Short (33-37"), Long (38-45"), or Extra Long (42-54") to fit your bass & your personal style*
Neoprene pad tapers to 3.5" where you need it most, to 3" near at the end
Holds any bass securely
Reduces shoulder slip
Made in the USA.
Try a Comfort Strapp and see why famous guitarists like Bonnie Raitt say, "I love these straps...most comfortable I've ever tried."
* Measurements are from inner strap hole to inner strap hole. The outer hole is designed as a loop-back secure attachment. If used to create a slightly longer strap, the length could be 58". When using the outer strap hole, the use of strap-locks is recommended (strap locks are not included). When weight is applied, the strap will measure slightly longer.
MSRP $42.00
---
Share this Product
---
More from this collection